On Live Psychic Chat App there is a default listing on the home screen. The top three advisors get most visibility and earn most of the money. The default ranking (if none are reserved) is determined by many factors such as your online status, overall ranking on the site, your response time etc.
If you want to get more traffic and earn more money then reserving rank is the best option for you. If you are new then this is the best way to get exposure.
How Does Rank Reservation Work?
Rank reservation is a bidding system. You have to pay to reserve rank. You bid with a % of your earnings as fee for the duration of the reservation.
E.g. If you have reserved 1st rank with 10% and if your earning for the duration of reservation is $100 then you will pay them $10.
Since it is a bidding system anyone can outbid you anytime. There is a way that you can reserve rank which others can't outbid and that is to reserve with 99% value but there is a catch. If you reserve with 99% value then you will earn only 1%. So why someone will reserve with 99% bid?
The answer to the question is services. Those advisors who reserve rank with 99% are mostly there to sell services. So unless you want to sell services you shouldn't be bidding with 99%.
I normally reserve rank with 99% whenever I'm available because I sell services which generate more revenue than readings.
How To Reserve Rank On the iPhone or Android App?
Tap on More tab bar menu. On More menu tap on Rank Reservation menu.
On Rank Reservation click on Outbid or Reserve button. Enter a bid amount and click on Reserve button.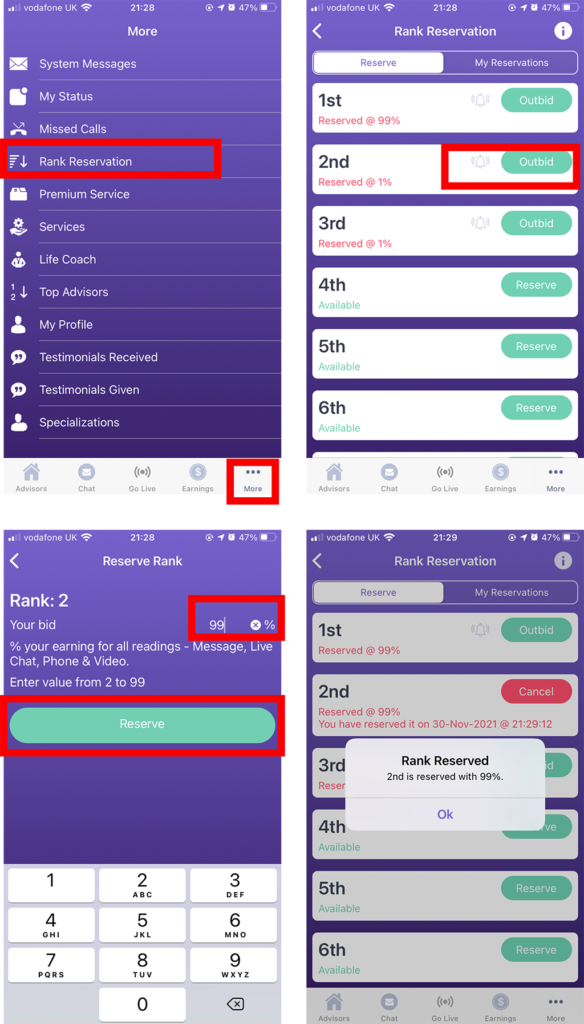 How To Reserve Rank On The Web App?
From the dashboard click on Rank Reservation. On Rank Reservation page you will see top 10 rank and availability. You can either reserve a rank or outbid others. Click on Reserve or Outbid to reserve a rank.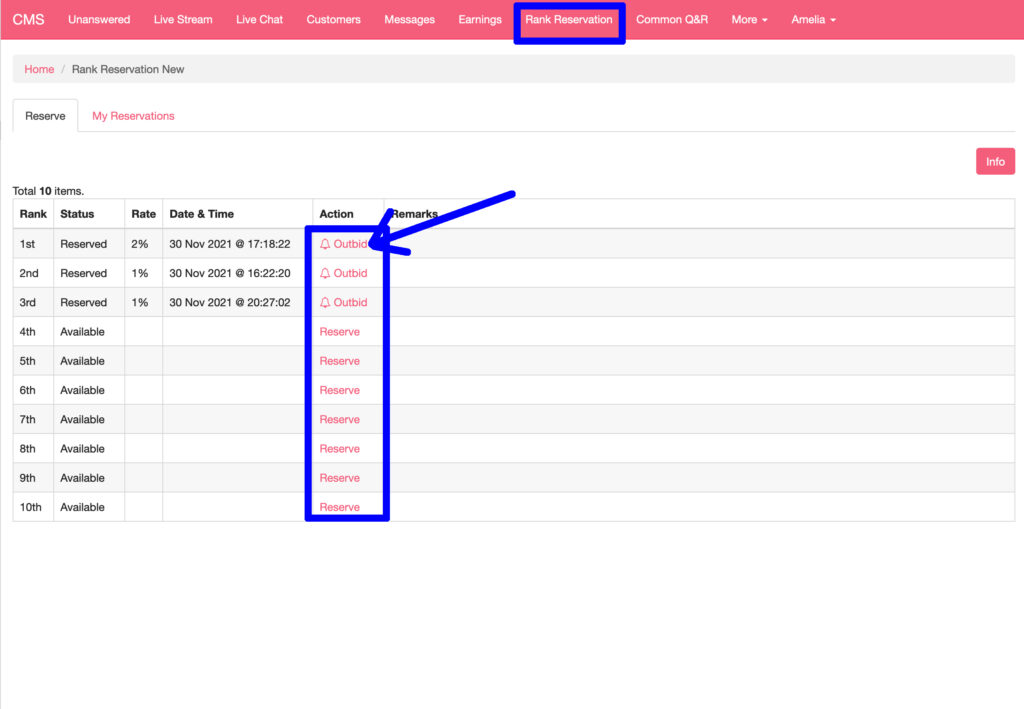 Enter a bid amount and click on Save.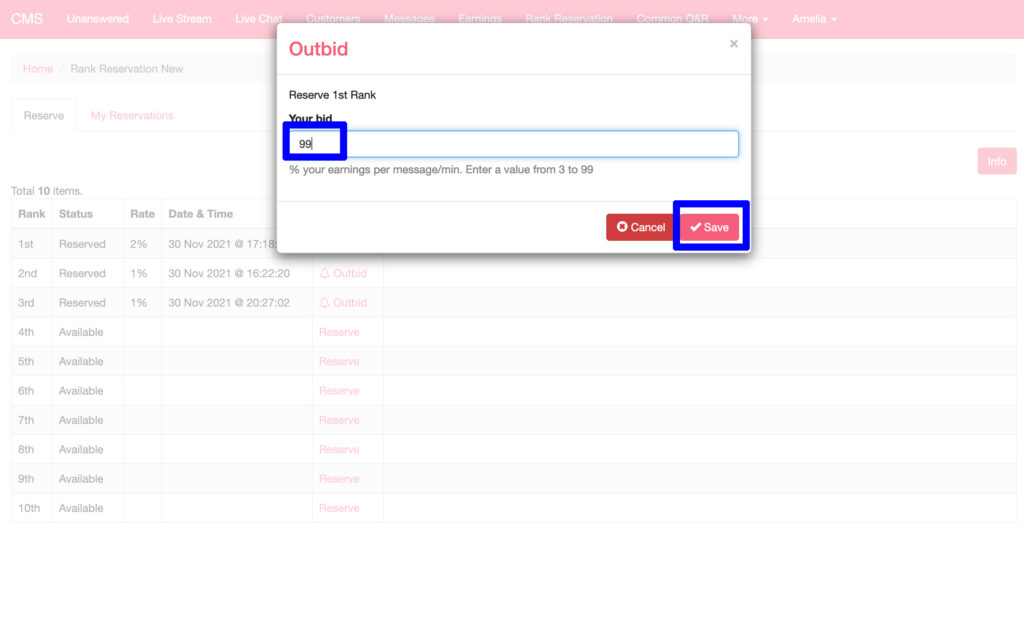 If it is successful you will see your reserved rank. You can cancel it anytime by clicking on Cancel button.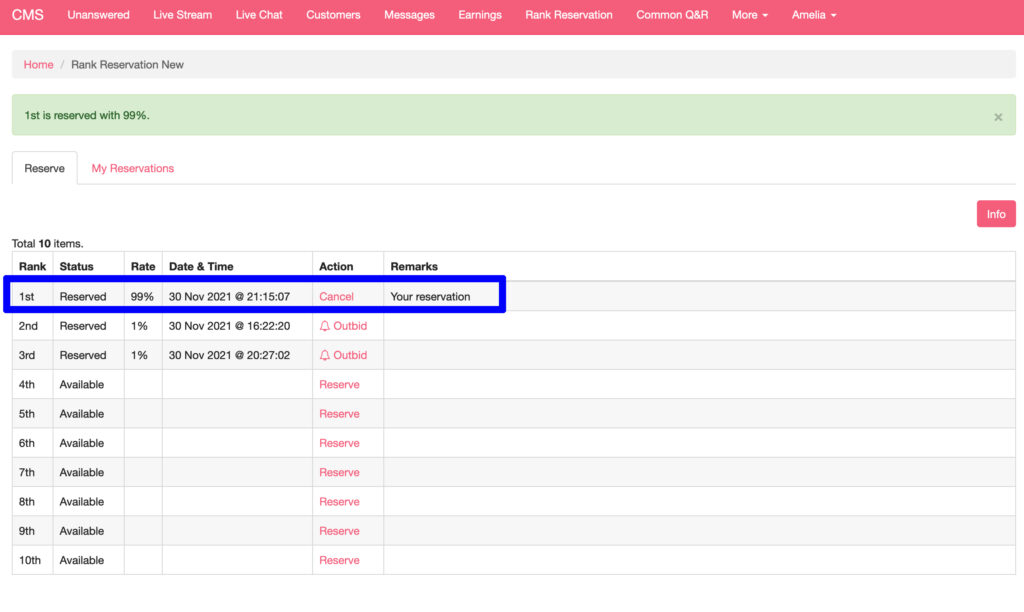 Get Notified When A Rank Becomes Available
It's tough competition out there for these top 3 ranks. You want to reserve it as soon as it becomes available. In order to do so you need to be notified whenever a rank becomes available.
To get notification when a rank becomes available click on the notify icon for the corresponding rank. You can unset it anytime by clicking again on this icon.
When a rank becomes available you will get a notification on mobile app. If you have set it on the Web App then you will be notified by email.